Creating Inclusive and Equitable Schools with Technology Tools
Thursday, March 23, 1:00 pm–1:50 pm
Marriott - Marriott - Stadium
How do we move technology solutions beyond the classroom so that we can reach families and our school communities? Look no further–in this session, we'll take a look at how we can use technology to include folks outside of students, faculty, and staff in the broader conversation. From collaborative newsletters, technology-infused community meetings, unique communication strategies, and more, let's see the art of the possible when it comes to using technology to reach families, our school communities, and beyond!
Format:
50-minute Session, Featured Speaker
Presented by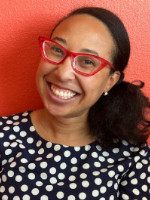 Victoria Thompson
Customer Success Account Manager
Microsoft Education
Victoria Thompson is an Education Industry Executive for the K-12 division of Microsoft Education. She has spoken at conferences such as ISTE, NCCE, FETC, TCEA, and more on topics such as equity in educational technology, mathematics education, and overcoming barriers to STEM education and teaching. Additionally, she was recently awarded the title of one of the top 30 K-12 IT influencers in 2021 by EdTech Magazine.