Culturally Responsive STEM Education
Thursday, March 23, 10:00 am–10:50 am
Marriott - Marriott - Stadium
It has always been paramount for us to create classrooms that are culturally responsive, but the unfortunate truth is that many of us are just beginning in this journey to unpack bias and look at our curriculum and instructional practices through an anti-racist lens. Now more than ever, we need to intentionally create classroom environments that promote and practice equity, anti-racist pedagogy, and safe spaces for our students to grow and flourish. Today is that day--let's jump in and learn what it looks like on a tactical level!
Format:
50-minute Session, Featured Speaker
Presented by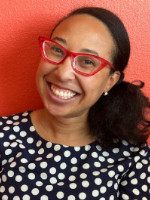 Victoria Thompson
Customer Success Account Manager
Microsoft Education
Victoria Thompson is an Education Industry Executive for the K-12 division of Microsoft Education. She has spoken at conferences such as ISTE, NCCE, FETC, TCEA, and more on topics such as equity in educational technology, mathematics education, and overcoming barriers to STEM education and teaching. Additionally, she was recently awarded the title of one of the top 30 K-12 IT influencers in 2021 by EdTech Magazine.