So, You Want To Be An Instructional Coach?
Tuesday, March 21, 12:30 pm–1:20 pm
Marriott - Marriott - Stadium
Instructional coach...what exactly does that title mean? What does an instructional coach actually do? What are expectations of the role? And, how does an instructional coach use educational technology with teachers and administrators in the building? In this session, we'll be demystifying the role of the instructional coach and discussing our pathways to coaching current and pre-service teachers, what our typical day-to-day looks like, the importance of technology integration in our roles, and how we use educational technology to elevate teaching, learning, and curriculum design. We just can't use edtech for edtech sake! We will also discuss the importance of knowing your "why" before you get started with edtech.
Format:
50-minute Session, Featured Speaker
Presented by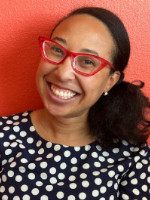 Victoria Thompson
Customer Success Account Manager
Microsoft Education
Victoria Thompson is an Education Industry Executive for the K-12 division of Microsoft Education. She has spoken at conferences such as ISTE, NCCE, FETC, TCEA, and more on topics such as equity in educational technology, mathematics education, and overcoming barriers to STEM education and teaching. Additionally, she was recently awarded the title of one of the top 30 K-12 IT influencers in 2021 by EdTech Magazine.