Equity in Educational Technology
Wednesday, March 22, 2:00 pm–2:50 pm
Marriott - Marriott - Stadium
In education we need to be committed to ensuring our efforts reflect the needs of our classrooms and schools, as well as equity and inclusion. How can we leverage technology to reach our goals? Come learn with us on how to navigate this landscape and how it can be possible. Attendees will learn about the intersectionality of equity and educational technology. New ideas and strategies that attendees will learn include vetting digital platforms and resources through an anti-racist lens, what an educator should look for when searching for equitable technology and technology platforms, the potential dangers of not checking a resource before you give it to students, the importance of student choice and voice, and the importance of elevating women and people of color in curriculum, among others.
Format:
50-minute Session, Featured Speaker
Presented by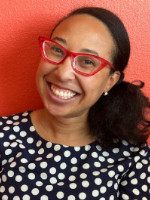 Victoria Thompson
Customer Success Account Manager
Microsoft Education
Victoria Thompson is an Education Industry Executive for the K-12 division of Microsoft Education. She has spoken at conferences such as ISTE, NCCE, FETC, TCEA, and more on topics such as equity in educational technology, mathematics education, and overcoming barriers to STEM education and teaching. Additionally, she was recently awarded the title of one of the top 30 K-12 IT influencers in 2021 by EdTech Magazine.